I literally don't know how I don't have a
Saint James
top yet. They are just classic, striped, 3/4 sleeve tops that go with virtually everything. I have been on a mission lately to get more plain tops that I can wear with all of my skirts and blazers. So far, I haven't had a ton of luck but I have Saint James tops on my Christmas list!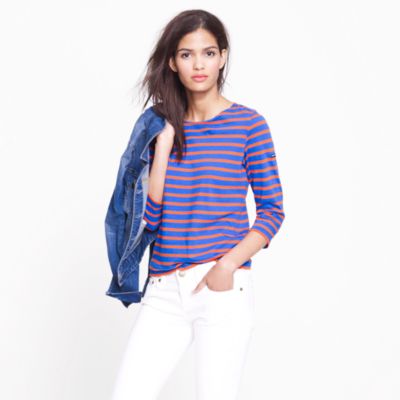 This is the one that I want. I love that the stripes are a light blue so they would look soo pretty under a navy blazer or puffer vest!
I also really like the red, though, too! I think I need both!
And just one of many, many, many ways they can be worn:
J.Crew Jacket
-
Gold Bracelet
-
Saint James Top
-
Suede Pumps
-
NARS Lip Lacquer
-
J.Crew Edie Purse
-
J.Crew Pleated Crepe Skirt
(Did I mention how in love I am with the Edie Purse from J.Crew?!?! That burgundy is perfection.)