I have to admit that I don't really abide by this much myself, but I think wearing pretty pajamas around the house and to sleep makes you feel so much better about yourself! I think the feel of satin against your skin is so much nicer than the feel of flannel (though that certainly has its great moments) and makes you feel so much more luxurious.
Marigot Collections
makes some really cute cotton pajama sets with little critters on them, starfish, coral, and all kinds of other patterns that I love! I bet these are just so comfortable.
Of course, J.Crew carries really classic pajama sets that I would love to wrap up in.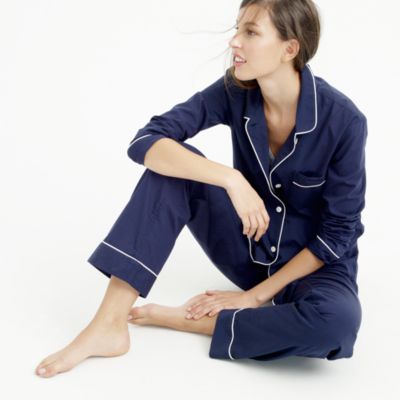 And speaking of satin, I really love the satin sleepwear from Victoria's Secret. I also have a satin robe from there that is just divine.
I've also always wanted a long satin slip like Charlotte from Sex and the City, and this one from Victoria's Secret fits the bill.
Whatever you decide to get, try something out of the ordinary for your nighttime ritual. You may love the way you feel!